"The school offers pupils an extremely wide range of extracurricular activities. Pupils are enthusiastic about the many trips, visits and cultural activities organised by the school because it helps them to understand what they are studying in greater depth".
Ofsted November 2017
There are a vast array of clubs and extracurricular opportunities at Tring School. In Year 7 every child has to join an in school club and they can choose from a huge variety (see below). Students are also encouraged to participate in out of school clubs because all the evidence shows that when children and young people voluntarily participate in a range of exciting activities, their appetite for learning increases which in turn can lead to better attendance, behaviour and attainment levels.
---
---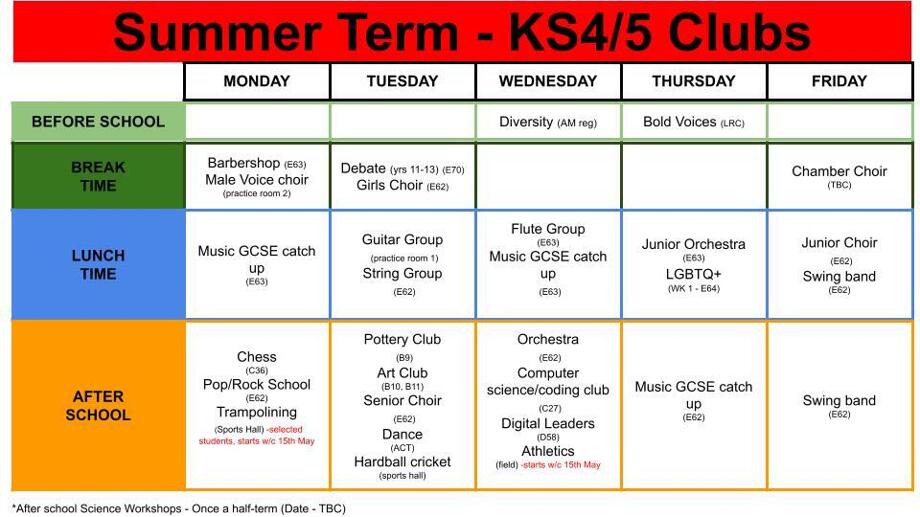 ---
KS3
KS4
KS5

Form Prefects
Helping Year 7 Transition
Open Evening Tour Guide
Running a stall at an Enterprise Market
Year 8 Buddies
Google Champions
Junior Ambassadors (Bold Voices)
Life Coaches

Form Prefects
Open Evening Tour Guide (Year 6 & GCSE)
Running a stall at an Enterprise Market
Leading a Club
Helping Year 7 Transistion
Year 7 Mentoring
Holiday Initiatives (eg Food Bank at Christmas)
Junior Ambassadors (Bold Voices)

Subject Ambassadors
Lifeguarding
Lead/Support a Club
Supporting House Competitions
Officiation Fixtures
Form Prefects
Reading Buddies
Maths Buddies
Open Evening Tour Guide
Running a stall at an Enterprise Market
House Captains
Year 7 Mentoring
Social Committee
Head Student Team

Subjects identifying Sixth Form help:

Art
Computer Science
PE
MFL
Geography
History