Continuous Professional Development (CPD)
Dacorum Schools Alliance believe that teach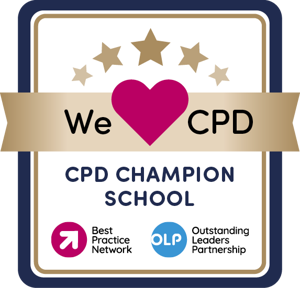 ers are all learners and with this in mind, we are very passionate about encouraging the development of our staff.
Our Continuous Professional Development (CPD) programme provides teachers and support staff the opportunity to identify specific areas for development.
We are delighted that Tring School has been recognised by the Best Practice Network as a school commited to staff development.
Teachers
We tailor our CPD programme to meet specific teacher needs and the priorities in our school development plan. We also encourage our teachers to join a CPD working group. These working groups meet regularly and explore areas of Teaching and Learning in more depth. We currently have Growth Mindset, Coaching, Teaching and Learning Pilot and Google Champions working groups.
We know that CPD is only effective if what we learn is then taken into our lessons. We therefore have Teaching and Learning observation partners who coach and support us in practising those new strategies in our lessons.
We have programmes on offer for teachers looking to advance their careers. This year our teachers can join Middle Leader training, the Outstanding Teacher programme and a Leadership Exchange programme. These sessions are led by our own teachers as well as visiting experts.
We have a separate programme for our new teachers. The NQTs and our teachers can also attend the comprehensive training on offer from Dacorum Schools Alliance (DSA).
NQT & Trainee Teacher Support
Dacorum Schools Alliance is a fantastic place to start your teaching career. The DSA's "coaching culture" ensures that all newly qualified staff are supported by experienced mentors using the Herts NQT Induction Programme and are also always able to benefit from the support of colleagues both within their own department and the wider school environment.
An NQTs experience with the Alliance begins with a 3 week induction programme in the last 3 weeks of the summer before they officially start in September. This enables new staff to familiarise themselves with the school and their new colleagues, observe some of the classes they will be teaching and ensure that they are able to confidently hit the ground running in September.
DSA prides itself on the CPD available to all staff but we have a bespoke training programme for NQTs and new staff to the school. This programme is led by senior staff, who ensure that NQTs are fully informed about the procedures of the school and that good practice is embedded at an early stage. Our NQTs at Tring School also have access to the wider range of CPD opportunities that are available throughout the year. As well as six sessions specifically for NQTs, we provide the opportunity to observe lessons in other schools and network with colleagues from the other Alliance schools.
The primary aim of the NQT programme with the DSA is to provide a seamless transition from Teacher Training to ensure that new staff "hit the ground running" and have everything they need to settle in, enjoy their first year and make an immediate impact as a teacher.
The NQT and Trainee Teacher programme has three main strands:
NQT mentoring
We work with the Herts for Learning NQT programme to ensure that all NQTs receive the support and guidance they need to successfully complete their NQT year. All NQTs at Tring are allocated an experienced mentor who is responsible for observing lessons, conducting mentor meetings, completing paperwork as well as being a sounding board, critical friend and shoulder to cry on. The mentor will use their experience to provide feedback and guidance and ensure that the NQT settles quickly into their new environment and ultimately successfully completes their first year.
The Professional Development Programme
As well as attending the numerous CPD sessions available for all staff within the school, the NQTs at Tring School have a bespoke programme that is designed to ensure that they quickly have all of the information they need to function as an outstanding teacher at Tring School. Sessions are usually held on a Wednesday after school and are led by the SLT or senior staff and cover topics such as behaviour management, Google and SEND provision that are essential to understand when settling into a new school. The sessions also provide an excellent opportunity for the NQTs to bond as a group and share their experiences as new staff. The NQTs at Tring will also have the opportunity to attend the two day Festival of Education at Wellington College in the summer term where there is a huge amount of CPD opportunities.
Dacorum Schools Alliance
As we are member of the DSA of local schools, the NQTs will have access to a timetable of CPD sessions that are designed to "tap into" the outstanding practice that takes place in these schools. NQTs will have the opportunity to attend these sessions hosted by the local schools and observe a lesson in their subject as well as meeting other NQTs working in their subject areas. These sessions have proved extremely popular and beneficial with our recent NQTs and provide a fantastic opportunity to share good practice with other NQTs and see how things are done in different schools and departments.
Support Staff
We offer all support staff a comprehensive induction programme to help you into our community. As with teachers, we want you to identify areas and opportunities for development so that you can acquire and improve the skills necessary for you to excel at your job. If your aspiration is to become a teacher then we will do everything we can to help you on the journey. We also encourage staff to join an apprenticeship scheme and in recent times we have seen people gain qualifications in accounting, ICT, HR, customer services and leadership and management.
Training to Teach at Tring School
Tring School is the lead School for the University of Hertfordshire within the Dacorum Schools Alliance. We offer the opportunity to train to become a teacher through the School Direct and offer both the salaried and tuition fee routes across a range of subjects.
We are able to offer a fantastic training experience with supportive mentors and excellent departments that will happily share both their time and resources to ensure that trainees develop and become outstanding teachers. Our trainees will have access to a wide range of CPD opportunities and will have the unique opportunity to work within a progressive school that will provide an incredibly supportive training environment.