The Learning Resource Centre is a welcoming environment that encourages reading, research & study. This inviting space houses an inspiring range of fiction, non-fiction books and journals.
The LRC is located on Floor B and can accommodate approximately 60 students, with space for reading, sixth form quiet study and the school stationery shop. The dedicated staff are committed to supporting teaching and learning, as well as reading for pleasure.
---
Accessit Online Catalogue
Access the school catalogue from home
Use multiple search options to help develop their information literacy skills
Receive automatic suggestions for their next read based on history
Please click here to search our online catalogue
---
EPlatform
To support reading from home we are now able to offer our students and staff free access to our collection of nearly 2,000 eBooks and audiobooks.
Please watch this video to learn more about our school ePlatform.
The ePlatform is full of bestselling, popular fiction titles and offers students a 24/7, 365 library while our print library in school is out of action. Students can borrow one eBook title or audiobook at a time, and that title will automatically return after 2 weeks, or students can return it earlier to loan a new title.
A Guide to using our eBook and audiobook ePlatform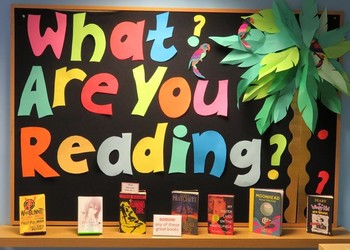 ---
Twitter & Instagram
Please follow our social media accounts:
---
OPENING TIMES
Monday 8.35am - 4.30pm
Tuesday 8.00am - 4.30pm
Wednesday 8.00am - 4.30pm
Thursday 8.00am - 4.30pm
Friday 8.00am - 3.00pm
Students and staff are welcome to use the LRC before school, break, lunch-time and after school to read, research or study.
---
Stationery Shop
Stationery items requested by departments, including book covers can be purchased in the LRC - Stationery Shop Price List. Printer Credits can also be purchased should students need to top-up their school account. All transactions are cash only.
Stationery Kit available to purchase in the LRC
The following items are available to buy in the LRC (apart from the Chromebook and Headphones)
Pencil Case to include:
Black and green Biros
HB pencil
Pencil sharpener
Eraser
Colouring pencils
Ruler
Small pair of scissors (round ended)
Glue stick
For Maths & Science
A scientific Calculator - you are not allowed to use your phone calculator app
360° Protractor
Compass
For Art
Paint, paintbrush and 4B pencil
---
Chromebook - fully charged ready to use at the start of the day
---
Headphones, only to be used in lessons if asked to by the teacher. As these headphones will be used during keyboard and Chromebook work, headphones to be wired (NOT Bluetooth enabled). These should have a small jack (3.5mm) but we will be able to provide adaptors if necessary.